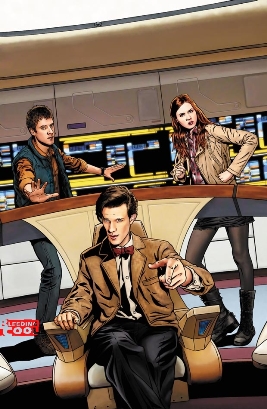 *After finishing their current Star Trek/Legion of Super Heroes mini-series, IDW is venturing again where no one has gone before with a Doctor Who/Star Trek: The Next Generation mini-series. It is called Assimilation and features the Borg and the Cybermen, and it begins in May! This will be the first officially sanctioned crossover for the Doctor Who universe.  More news at it becomes available. (Thanks to Bleeding Cool)
*IDW is also releasing another in its line of Artist Edition Hardcovers. This one features the original lettered art from Frank Miller and David Mazzuchelli's Daredevil: Born Again.
*And, in other Doctor Who news, Doctor Who Insider #9 is the final issue of the publication.
*Cartoon Network has finally announced the start date for their DC Nation block of programming. The hour-long premiere is on Saturday, March 3rd at 9 a.m. in the central time zone and will feature new episodes of the Green Lantern Animated Series, Young Justice and a variety of new shorts.
*DC  gives us a first look at Art Baltazar and Franco's Tiny Titans followup, Superman Family Adventures!
*DC is launching a Smallville Season 11 comic, similar to Dark Horse's Buffy comics, that will continue the stories and characters of the CW TV series. They will first be released as Digital Only in April and then as printed comics in May.
*Even though it hasn't started filming yet, 20th Century Fox has finally announced a July 26, 2013 release date for Hugh Jackman's The Wolverine movie.
*Big Bang Theory is begetting a a boxed Party Game this spring.