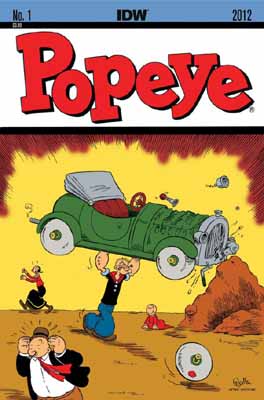 *Roger Langridge, writer of Marvel's acclaimed Thor: The Mighty Avenger all-ages series and writing and drawing Boom! Studios' Muppet Show and Snarked! series, has been tapped by IDW to create a new Popeye ongoing series with artist Bruze Qzella beginning in April!
*AMC has upped their order on Season 3 of The Walking Dead from 13 to 16 episodes.
*Following February's Ralph Wiggum one-shot, Bongo Comics has announced a Bart Simpson's Pal, Milhouse one-shot for this April co-written by Gail Simone!
*According to a recent Rob Liefeld tweet, his Image Comics book with Robert Kirkman, The Infinite has come to an early end.
*Sergio Aragones, Mark Evanier and Thomas Yeates' Conan VS Groo 4-issue mini-series begins in April from Dark Horse!
*Looks like the FX Network's Powers TV show is in limbo, for now.
*The Complete Series DVD of Bob Newhart's short-lived show, Bob, from 1992-1993 is being released on April 3. Newhart played the creator of a fictitious superhero called Mad Dog in the first season (which had a 6-issue tie-in series published by Marvel around the same time) and changed to creating greeting cards for the second season.