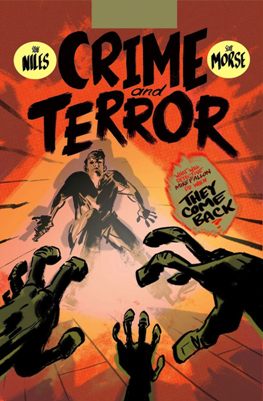 *This past weekend February 24-26, the first Image Expo was held in Oakland, California, and besides celebrating the company's 20th Anniversary, many announcements of upcoming projects were made including:
–Crime & Terror by Steve Niles and Scott Morse;
–Happy! by Grant Morrison and Darrick Robertson;
–A third volume of Kieron Gillen, Jamie McKelvie and Matthew Wilson's Phonogram called The Immaterial Girl.
–Chin Music by Steve Niles and Tony Harris;
–Bedlam by Nick Spencer and Rossmo;
–Black Kiss II by Howard Chaykin!
Click through to the  Robot 6 Blog on Comic Book Resources for more info and artwork!
*Bleeding Cool is reporting that Brian Michael Bendis will be taking over The X-Men when he leaves The Avengers later this year! (Does that mean that the mutants win Avengers VS X-Men? Hmm?)
*David Morrissey, The Next Doctor from 2008's Doctor Who Christmas Special, has been cast as The Governor in Season Three of AMC's The Walking Dead!
*Andy Diggle and Mark Buckingham will be the creative team for the first arc of a new Doctor Who series for IDW later this year! (Maybe for when the new season starts this fall?)
*For a limited time only, Sonic Drive-Ins are giving away free Justice League "Super Tots" with the purchase of one of Sonic's Wacky Pack Kids' Meals!