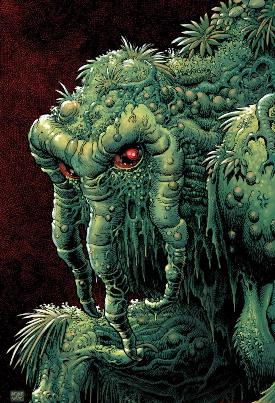 *The Infernal Man-Thing is a 3-issue mini-series being released by Marvel this June from an unpublished story written by the late Steve Gerber . The story, entitled Screenplay of the Living Dead Man, will feature interior art by Kevin Nowlan and covers by Nowlan, Arthur Adams and Gil Kane!
*After finishing up their current Rocketeer Adventures 2 anthology series, IDW Publishing has announced they will be publishing an all-new 4-issue Rocketeer mini-series written by Mark Waid with art by Chris Samnee.
*The Doctor will have a new companion beginning with this year's Doctor Who Christmas Special after Amy and Rory leave the show. AND, here's a trailer for the next Season (that will not air until Fall) that debuted at the recent official Doctor Who Convention in Cardiff!
*Ms. Marvel is being renamed the new Captain Marvel beginning this July written by Kelly Sue DeConnick and drawn by Dexter Soy.
*Jonathan Hickman's SHIELD Volume 2 WILL be finished later this year.
*Timothy Zahn has a new novel coming out this year right after Christmas (?). Star Wars: Scoundrels is a heist caper starring Han, Chewie and Lando!
*Disney XD has posted a new trailer for Avengers Earth's Mightiest Heroes Season 2 returning April 1. Get a glimpse of The Vision and the Red Hulk!