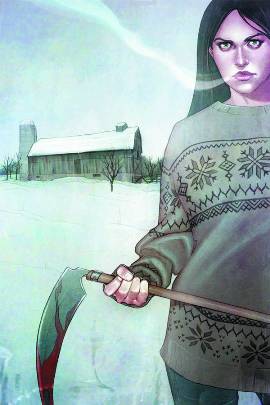 *Writer Tim Seeley and artist Mike Nolan are trying to create a whole new genre called Farm Noir this July when Image Comics releases their Revival #1 where the dead residents of Wausau, Wisconsin (Hey, my Aunt and Uncle used to live there!) decide NOT to STAY dead! Represent, WisCONsin!
*Spoiler Alert! DC has announced which classic character is now gay in the New 52 Universe. This Entertainment Weekly link includes a preview and interview with writer James Robinson. Or, you can pick up Earth 2 #2 this Wednesday, June 6!
*AMC will be running a Walking Dead marathon the weekend of July 7 and 8 that will culminate in an all-new one-hour Talking Dead special; a first time broadcast of the show's pilot in Black & White and special previews of Season 3! And, in related news, the folks at IGN have the cover art for Frank Quitely's disturbing Variant to Walking Dead #100.
*In Doctor Who news, the Doctor's new companion finally has a name! Well, a first name. It's Clara, which was the real life middle name of the late Elisabeth Sladen, better known as classic Who companion Sarah Jane Smith. Nice tribute.
*Scott Kolins will be drawing Legion of Super Heroes for at least a few issues beginning in September.
*The patriotic-colored armor of Norman Osborn's Iron Patriot from Marvel's Dark Reign Storyline will be making an appearance in the Iron Man 3 movie!
*The release date for the Thor 2 movie sequel has been moved up a week to November 8, 2013 and the as-yet-untitled sequel to X-Men First Class has a release date of July 14, 2014.