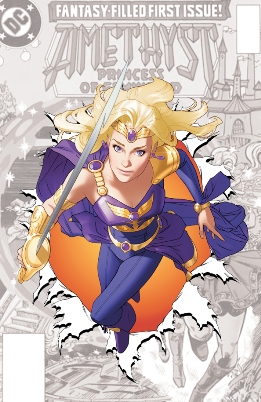 *DC Comics has officially announced their plans for releasing Zero-numbered issues for all of their 52 titles this September.  Four new titles will also be launched that month including Sword of Sorcery #0 featuring a revamped Amethyst, Princess of Gemworld; a Batman Court of Owls spinoff, Talon #0; The Phantom Stranger #0 and a DC/Wildstorm merging of Team Seven #0!
*AMC has released the first image of actor David Morrisey as The Governor from the upcoming third season of The Walking Dead. So maybe he's introduced fairly early since they just started filming a few weeks ago?
*Teen Titans Go! will be joining the DC Nation block on Cartoon Network with all-new half-hour episodes in 2013! Please tell me they're going to keep the Puffy Ami Yumi theme song!
*Warner Brothers has struck a licensing deal with 20th Century Fox to sell merchandise related to the classic 1960s Batman TV Show! Still no deal to release the show on home video because of complicated rights issues but we might be one step closer because of this new deal!
*Disney XD's Avengers: Earth's Mightiest Heroes Animated Series will NOT be renewed for a third season in lieu of a new series coming in 2013 called Avengers Assemble.
*Actor Josh Dallas had to drop out of playing Fandral again in the Thor 2 Movie due to his commitment to ABC's Once Upon A Time, so Zachary Levi of NBC's Chuck is expected to take over the role!